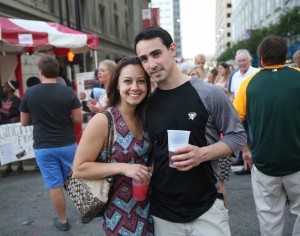 Taste of Cincinnati, the nation's longest-running free culinary arts festival returns May 27-29, 2017, featuring 34 restaurants and 18 food trucks. More than 250 menu items will be available for you and 550,000 of your closest friends. Taste of Cincinnati takes place on Fifth Street in downtown Cincinnati, from Main Street to Sentinel and beyond to the ramps of I-71 and Columbia Parkway. This is a shift, two blocks east, from Taste of Cincinnati's previous location.
25 percent of this year's restaurants and food trucks are brand new to Taste of Cincinnati, including the delicious delights of such places as Mazunte, Tickle Pickle, Che Restaurant, Wicked Hickory and the Chili Hut. Additionally, Cincinnati institutions will be on hand, like Izzy's, Busken Bakery, Eli's BBQ, Tom+Chee and C'est Cheese. Find a full list of participating restaurants and food trucks at tasteofcincinnati.com.
"We're proud, to once again, bring new concepts to Taste of Cincinnati, while still incorporating your longtime favorites," said Cynthia Oxley, director of Taste of Cincinnati. "Nine new restaurants will join Taste of Cincinnati and four new food trucks will be part of Rhinegeist Food Truck Alley on the Fifth Street Ramp to Columbia Parkway."
Taste of Cincinnati's newest attraction is the Findlay Market area, which will take over the Fifth Street ramp to Interstate 71. Vendors from Findlay Market and "foodpreneurs" from Findlay Kitchen will take shifts, serving delicious fresh-cooked dishes, throughout the weekend. Findlay Market is Ohio's oldest continuously operated public market and one of Cincinnati's most cherished places.
In addition to amazing food, Taste of Cincinnati promises 60 bands and entertainers, throughout the weekend on five stages. Taste of Cincinnati runs 11a.m.-11p.m. on Saturday and Sunday, and 11a.m.-9p.m. on Memorial Day Monday. If driving, park as far north as Findlay Market or south at The Banks and take advantage of the new Cincinnati Bell Connector streetcar or Red Bike bicycle sharing system.
The Cincinnati region is a vibrant mix of cultures, and its food scene is receiving national attention. Make sure to experience Taste of Cincinnati, rich in tradition and alive in the times.