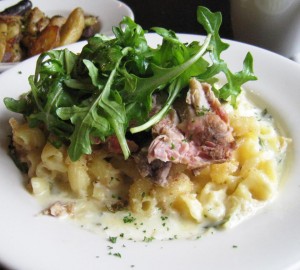 Being an OSU girl… It warms my heart every time I see the city skyline driving north on I-71. The close drive to Columbus, the familiar sites of the outlets knowing we are almost halfway.  My home for five years… Yes five (I really had fun in college!).
We needed a mini escape, and Columbus was the destination. One night and two days…perfect. First stop is always Katzinger's Deli. Located at the edge of German Village, stocked full of delicious NYC style meats, cheeses and breads. Don't skip the pickles! A minor oinkfest.  We headed over after to German Village Guest House…a wonderful bed and breakfast tucked quietly in the cobblestone neighborhood with old world charm. What an incredible suite/apartment!!! We were wowed…four rooms!!! Decorated with such taste….stainless kitchen with granite, stone-inlayed, walk-in shower…I swear I'd live there! We totally loved the little touches also, from the homemade cookies, granola, snacks, fruit, drinks…all included.
Time to sightsee and head up the road a bit to "Short North".  Stopped at the North Market, a bit like Findlay Market, but all inside. Great international food vendors, and so many local vendors also.
The timing for this getaway was perfect as I'd heard so much about Gallery Hop Saturday.  Gallery Hop takes place the first Saturday of each month, and most of the galleries and shops stay open pretty late into the night.  We shopped our way up and down High Street!
It was time to head over to The Pearl for a bite (and a bit of Basketball!). Well, maybe more than a bite!!! Sampled so many delicious items on the menu… And the perfect bottle of wine. We dined on many yummy things! The lamb meatballs and the Pub Burger were the standouts along with the Devils on Horseback…- crispy little bacon-wrapped dates and "aged" molten cheese with a neat, shallot-y sorta chimichurri sauce. Heavenly.
After a wonderful night's sleep (you can't imagine the "continental breakfast" waiting in the kitchen…fresh fruits, home baked treats…so much!) we headed over to Skillet, a farm to table culinary find, also in German Village, with a dear sorority sister and her wonderful hubby. As fun as it was delicious!!!!
I must say, I still adore Columbus. Go Bucks!