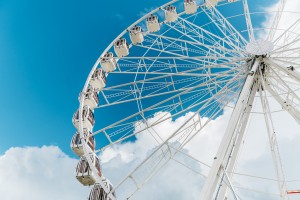 To celebrate the 10th anniversary of The Banks in Cincinnati, SkyStar, a 150-foot-high mobile observation wheel is open through December 2. SkyStar will operate on Freedom Way at The Banks, across from the National Underground Railroad Freedom Center.
"SkyStar is America's largest portable observation wheel and it lights up the sky with over 1 million colored LED lights," said Todd Schneider of SkyStar. "This experience provides unique views of downtown Cincinnati, Northern Kentucky, the Suspension Bridge and the Ohio River." 
Each of the 36 gondolas is enclosed, climate controlled and can hold up to six passengers. Skystar offers a private experience and riders won't be paired with strangers. The SkyStar experience consists of four revolutions and lasts approximately 12 minutes.
"SkyStar will inject even more excitement into our Ale to the Queen City Thanksgiving weekend craft beer festival, Bud Light Tailgate Zone pre-game Bengals parties and more," added Cynthia Oxley, director of Corporate and Community Events for the Cincinnati USA Regional Chamber."
"Our restaurants and retailers are excited to welcome new visitors and bring a new view to those who have loved The Banks for years," said Tracy Schwegmann of Jeffrey R. Anderson Real Estate, developer of The Banks. "We're thrilled to celebrate the 10th anniversary of The Banks in a sky-high way."
Hours
Monday through Thursday – 4 to 10 p.m. 
Friday – noon to midnight
Saturday – 10 a.m. to midnight
Sunday – 10 a.m. to 10 p.m.
Tickets are $12.50 each and available now at www.skystarwheel.com.