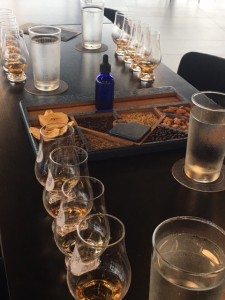 I just love my weekend getaways…..and this trip was Louisville!  What a great time, filled with great food, bourbon, and shopping!
We headed on down on a Friday afternoon, checked in to the Seelbach Hotel (our Louisville resting spot of choice!), then headed over before the impending storms to 8UP Elevated Drinkery & Kitchen, an incredible indoor-outdoor all glass drinking and eating experience.  We were wowed!  Grabbed an awesome table outside to admire the skyline and have a cocktail and bites to eat.  Chef James Moran, the Executive Chef, greeted us with his innovative and scrumptious plates for the BEST happy hour. The drinks were wonderful, and his food……plate after plate of yumminess!  From the grilled octopus, the beef tartare, to the pizza, and the desserts.  AMAZING.  GO.  
After lounging at the hotel for a bit (splurge for the "Concierge Level" at the Seelbach….totally worth it!), we headed over to Le Moo, a famous Louisville spot known for the incredible cuts and varieties of beef.  We were seated in the Louis Vuitton booth, luxuriously surrounded by everything Louis, from the bench, to the wall, table…everything!  Way cool.  Dinner and desserts were delicious, and they do a great thing for birthdays!  Trust me on this, the older you are…the better!  
Saturday was the "Bourbon tasting" day.   We started at Rabbit Hole Distillery, a brand new, beautifully appointed facility right in Downtown Louisville.  Our hostess was informative and enjoyable, giving tons of info without overwhelming.  At the end of the tour it was tasting time.  Interactive and a definite favorite of all the Bourbon lovers at our table.
After a quick bite at Lilly's Bistro (what a gem!  All farm-to-table…one dish better than the next!), we then headed over to Old Forester Distillery.  We had never been to a distillery that made their own barrels.  If you've never seen this, it's super impressive!  Of course, the tour was finished with a tasting…great variety in Bourbons…don't miss this tour!
Shopping.  There's always time for it.  ALWAYS.  Our favorite gallery is CRAFT(s) Gallery & Mercantile at the corner of 4th and Chestnut…just down the street from The Seelbach.  The best collection of art and whimsical pieces!  There was an art opening the night before where we spied an awesome llama painting… came back on Saturday and purchased.  I'm in love.  He's my new favorite animal and can't wait to see him in all his glory hanging on the wall!
Food, food, food.  More food.  Off to Proof on Main, tucked away in the 21c hotel, surrounded by the incredible art of the hotel lobby and spaces around it.  Another incredible dining experience!  Course after course of great bites.
We got up Sunday morning and knew it was almost time to head back.  Brunch was a must, so we went to Harvest.  A repeat from years ago, and well worth it!  The restaurant is decorated with large portraits of all the farmers they buy product from.  All local and wonderful.  We all ordered something different so we could sample it all.  So much food.  Sooo good.
Another food and fun-filled weekend getaway.  Go to Louisville.  Be sure to save all my recommendations for your visit….you'll be very pleased, I promise.
—Patty Youkilis, Publisher