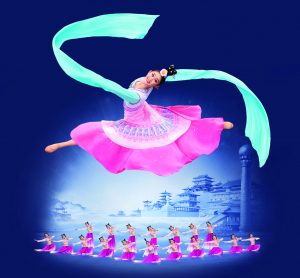 Exquisite beauty from the heavens. Profound wisdom from dynasties past. Discover authentic Chinese culture, as Shen Yun Performing Arts, the world's premier classical Chinese dance and music company, comes to Aronoff Center in January.
Shen Yun, a New York-based company, was founded in 2006 by an impressive group of Chinese artists. Their dream was to create a renaissance for mankind's most ancient heritage. Today, their wish has become an international phenomenon. 
Shen Yun performs in 150 cities worldwide. With breathtaking dances, gorgeous costumes, live orchestra, and dynamic backdrops, this is a show brimming with themes of courage, hope, and triumph of good over evil. Shen Yun is the world's only company depicting Chinese culture as it had been before it was nearly destroyed by decades of communist rule.
Shen Yun features hundreds of handmade costumes—showcasing apparel from China's 5,000 years of history. Their exquisite colors blend seamlessly with the animated backdrops, instantly transporting the audience to another world. The animation also contains a few surprises, but those are best left for the performance. 
At the end of a cold winter, Shen Yun's warm embrace of this ancient heritage is a great way to welcome in the new season, and is a highly accessible, enlightening, and entertaining experience.
Shen Yun at Aronoff Center Jan. 28-29. 
For tickets and more information,
visit www.ShenYun.com/Cincinnati