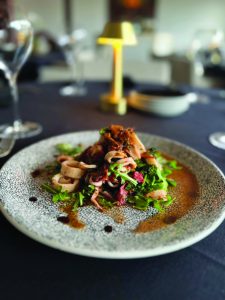 Tell me there's a new Italian restaurant opening in the vicinity, and I am there! Just a short drive up I-75 into a quaint little town called Middletown… Is a fabulous new destination called Primo Italian Strakhouse.  I've never been to Italy, but I am absolutely sure I just visited by the incredible ingredients and care put into each course by Chef Shawn Heine! Shawn and Nelson Castillo, Owner of Primo, recently returned from an expansive research trip through Italy, where they hand picked ingredients and fabulous wines… From the dried tomatoes, the different types of flour used for their homemade pastas, The incomparable pasta maker, Olive oil, charcuterie… even the stunning hand-blown water carafes for the Italian filtered water system! The care put into every ingredient and every dish is dynamic and so full of flavor!
Middletown… A city 35 minutes north of downtown Cincinnati, within 15 minutes of Cincinnati's northern suburbs, and 15 minutes south of the Dayton area. There is a boom going on in the city… New businesses popping up every day, and with its' convenient location, accessible to all.
Primo and the building are rich in history, from the spectacular etched glass windows, to the dark, inviting woodwork… makes for a seductive ambience throughout. The exclusive bourbon room with attached cigar patio will be fabulous! The location is sexy, tasteful… And the chandeliers are stunning!
Service was impeccable from start to finish, and the chef and wait staff, along with Nelson (always there to greet with a smile!) will give recommendations to be sure you have the best experience possible.
Primo Italian steakhouse… Absolutely one of the best meals and dining experience I've had in the greater Cincinnati area. Cannot wait to go back! It was literally… THAT GOOD! 
– Patty Youkilis, Publisher