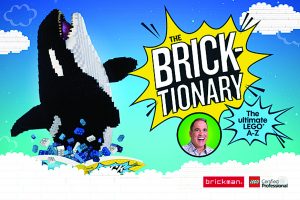 Cincinnati Museum Center (CMC) is hosting the world premiere of the new exhibition clicked to life by the creativity and talent of Ryan "Brickman" McNaught, star of LEGO® Masters Australia. The exhibition is now open.
Featuring more than 150 custom-built LEGO® models, Bricktionary is filled with the most mind-boggling creations. From leaping orcas that tower overhead to Saturn V rockets that stretch from floor to ceiling, the exhibition pushes the limits of what's possible with LEGO® bricks. 
"We're excited to host the world premiere of this incredible exhibition that showcases not just what's possible with LEGO®, but that anything is possible with LEGO®," said Elizabeth Pierce, president and CEO of Cincinnati Museum Center. "Through the mastery of The Brickman and his team, Bricktionary demonstrates the endless versatility, ageless allure and STEM applications of LEGO®; anything is possible by anyone when you're building with LEGO® bricks."
Bricktionary is more than a stunning gallery of masterpieces by the southern hemisphere's only LEGO® Certified Professional; Bricktionary is about you! If you can dream it, you can build it. The exhibition encourages amateur and expert builders alike to get involved through interactive build zones. In Bricktionary: The ultimate LEGO® A-Z, LEGO® becomes the building bricks of imagination.
Build a LEGO® brick model to survive an earthquake and test it against the Bricktionary earthquake machine. How long can your build last? You can also help build a giant LEGO® mosaic or a spaceship to take us to Mars. You can even build animals to add to the giant LEGO® brick garden.
A fun-filled journey for families, kids and adults, Bricktionary: The ultimate LEGO® A-Z is now open for a limited time at Cincinnati Museum Center. Tickets and additional information are available at cincymuseum.org/bricktionary.