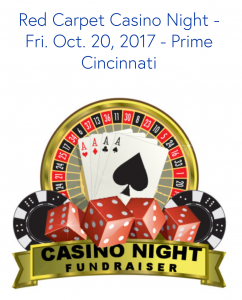 Recruiting firms in the country, connecting employers with the most qualified candidates for their hotel, resort, restaurant or casino.
But this agency is also highly philanthropic as well, and to this end they are sponsoring this year's Envision Children's Red Carpet Casino Night, held downtown at Prime Cincinnati.  Envision Children is a 501(c)(3) nonprofit education services provider that engages students in interactive and fun activities.  These real-life activities enable students to see how their education benefits them now and how it will benefit them in their future.  It provides under-served students with supplemental educational instruction in science, technology, engineering, math, reading and critical thinking that will allow them to excel academically.
It's important to Patrice & Associates to be active in the communities they serve, which is why here in Cincinnati they work with Downtown Cincinnati, Inc., Cincinnati Swords (a local youth hockey team) and the Cincinnati Regional Chamber of Commerce as well as Envision Children.  As lead sponsor of the Red Carpet Casino Night, they will be helping raise money to create quality educational programs for local economically disadvantaged children.  The event will be on Friday, October 20th, and for more information go to http://www.envisionchildren.org/red-carpet-casino-night/.
From recruiters and franchisees who are of the highest caliber to those looking for a job in the hospitality industry – or to those looking for the perfect employee at their hotel, restaurant, resort or casino, look no further than Patrice & Associates before anywhere else.