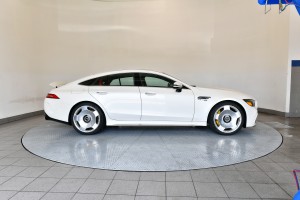 If you find yourself driving down I-75 a few miles South of Cincinnati, it is tough to not notice the beautiful Mercedes-Benz dealership that you pass by. Sitting on a large seven acre lot, the Mercedes-Benz of Fort Mitchell is a full service, state of the art dealership that has been proud to serve customers since its startup in late 2003, which also happens to be one of the largest Mercedes-Benz AMG dealerships – Mercedes high performance line – in the USA.
Be on the lookout for Don Paparella, who is proud to be the Managing Partner of Mercedes-Benz of Fort Mitchell, and has been since the dealership opened. With business going on an upward trajectory, Paparella is happy with how things have been going, "We had a record year in 2018, and the first half of 2019 has been great." 
With one of the most recognizable brands among vehicles in Cincinnati, Mercedes-Benz prides itself in their cars and service to their customers. "We are the only dealership in the Cincinnati, Northern Kentucky and Southeast Indiana area to receive, for each of the past five years, the coveted Mercedes-Benz "Best Of The Best" award, with a Silver Laurel award in 2018, given only to the select few dealerships that have delivered unparalleled excellence and customer experience," as their website states.
They offer new vehicles from as low as $33,000, as well as Mercedes-Benz Certified used vehicles for as low as $19,800, and as Paparella says "Mercedes focuses on safety, security, and quality in all their cars, not just their high performance models." Their popular new midsize SUV, the GLE 350 comes equipped with a tucked 3rd row, 255 Horsepower, and up to 26 MPG on the highway. 
Mercedes-Benz of Fort Mitchell is also heavily involved in the local community, and supports and donates to multiple charities, and the emphasis on community support is very important to Paparella, who said "It's just the right thing to do."