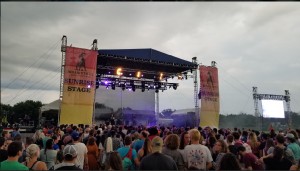 The Bellwether Music Festival returns in 2019 with amazing lineup of artists for the 2-day music and camping festival taking place at Renaissance Park in southwestern Ohio on Friday, August 9 and Saturday, August 10. The lineup includes Beach House, Cake, Cold War Kids, Guided By Voices, Twin Shadow, STRFKR, Real Estate, Pinback, Black Moth Super Rainbow, Caroline Rose, Sego, Arlie, The Brook & The Bluff, Katie Pruitt, Hailey Knox, Eldren, Quiet Hollers, Young Heirlooms, Multimagic, R. Ring, Saint Aubin, Fern Murphy, Frederick The Younger, and Souther.
The festival will also feature full contact rock n' roll jousting, a comedy night on the Thursday prior, guest DJ sets on Friday and Saturday, a late night silent disco featuring Dragomi Art Car (www.dragomi.org); a Burning Man favorite, and after parties.
Passes are on sale now including 2-day GA tickets and 2-day VIP passes for the 2019 event.
MEET US AT THE PARK:
Bellwether Music Festival: August 9-10, 2019 – Gates at noon. Music starts at 2pm. Music ends by 11pm.res, photography, and other media by talented, local and regional artists. Join us opening night for opportunities to meet the featured artists and to experience the original art with wine and hors d'oeuvres. Admission is free.
Art Beyond Boundaries provides a professional, mainstream fine arts exhibition venue for artists with disabilities, located at 1410 Main Street in the historic Over-the-Rhine arts district. With your support, we can continue providing a gallery, workshops, programs, and services for our artists and people with disabilities. For more information, "friend" or "follow" the gallery on FaceBook, Twitter, Instagram, and/or contact the gallery.