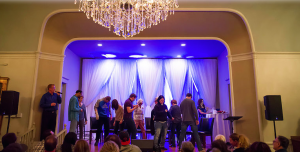 Just across the Ohio River, one short block from Newport on the Levee, is Carnegie Hall. No, not the one where you need to practice, practice, practice to get there! This Carnegie Hall was built in 1898 by American philanthropist and steel tycoon Andrew Carnegie, and was the home of the Newport Library for over 100 years. But now it's an elegant and sophisticated special events venue. The stunning Italian Renaissance-style architecture has been completed restored: The Gilded Age is alive and well at Carnegie Hall.
In addition to being the perfect place to host a wedding, rehearsal dinner or other special event, Carnegie Hall is proud to offer the talents of a Master Stage Hypnotist every Friday and Saturday night. Each week a different hypnotist takes the stage to bring a night of pure fun and entertainment to the audience; these are hypnotists who have headlined in Las Vegas, been on television and performed on cruise ships. Audience members are given a chance to volunteer to be a part of the show, and what results is the funniest night you'll ever experience! It's all in good fun, of course, no one is ever put in a bad light, and it's the perfect night out for anyone age 18 and up.
Shows are Friday and Saturday nights at 7:30, and last an hour and a half. To get tickets, or more information, just go to https://www.newportcarnegie.com/. For a night to remember – and the best laughs of your life – get to the Master Hypnotist Show at Carnegie Hall!