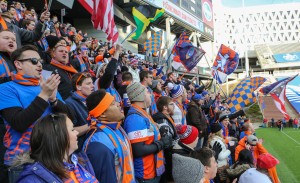 FC Cincinnati, the second-year professional soccer organization, commanded the attention of the soccer community around the country after a phenomenal inaugural season that saw an electric atmosphere, record-breaking attendances that surpassed several Major League Soccer organizations, exciting soccer on the pitch and culminated in a visit by MLS Commissioner Don Garber.
In 2017, FCC looks to raise the bar. Off the field, the franchise's goals include expanding the FCC fanbase and continuing its efforts in becoming an indelible part of the Queen City fabric. The Giveback Program returns for a second season with additional clubs and organizations signed on to participate to receive a portion of the tickets sold through their efforts. The club continues to partner with many organizations in the Greater Cincinnati area to increase its involvement in the community.
On the pitch, with an eye on raising the USL Cup, FCC made several off-season roster moves that will take advantage of the newly-renovated Nippert Stadium field which now meets MLS standards and can play host to U.S. National Team fixtures. Fans can expect to see an increase in goal production, courtesy of a dynamic attacking third brought in to capitalize on the additional space. Returning a core group from the 2016 season, FCC has added several players from both the continental U.S. and international talent.
New to the FCC experience? Check out The Bailey, where FCC's most ardent supporters sit. Follow the sounds of drums, chants and songs and look for tifos, fans decked out in orange and blue and the presence of orange and blue smoke and get caught up in the excitement that is FC Cincinnati!