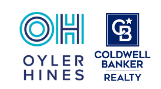 Coldwell Banker Realty in Ohio is pleased to announce the merger of two top agent teams, the Oyler Group and Build Collective. Together, they have created the Oyler Hines Group, which offers specialized and unparalleled real estate sales services in the existing home and new construction market throughout Cincinnati and Northern Kentucky. Their combined team of 20 is excited to have the ability to create more opportunities for each and every buyer and seller and make more possible.
The Oyler Hines Group has a combined 20+ years of award-winning sales and marketing experience and a 2020 sales volume of over $148M with more than 400 residential sales. Both Scott Oyler and Michael Hines have grown up in the Cincinnati real estate market. Both have received numerous industry awards including top teams in Cincinnati within Coldwell Banker, Home Builder Association and nationally in REAL TRENDS not to mention America's Best, top 1% agents within Coldwell Banker Realty, President's Club, Circle of Excellence and so many more.
"Real Estate is changing and we're excited to be on the forefront of an exciting time in the market. Mike and I have been fortunate to successfully navigate this unprecedented 2020 and 2021 market. We are thrilled to share each of our team's growing resources with each of our clients to make more possible! We believe our teams are the best in the business and we're empowering them by combining resources so we can work more nimbly and create a larger network for our homebuyers, homeowners and developers," says Scott Oyler.
"I am proud of what we've been able to develop with Build Collective, which was created to work specifically in the residential new construction market, specifically for buyers, builders and developers to create opportunities." says Michael Hines. "We've always admired Scott's team's constant innovation and client focused approach on the residential resale division. Joining forces to become the Oyler Hines Group will allow us to share that knowledge, reputation and passion on a larger stage.