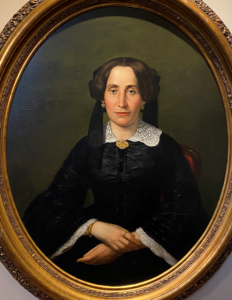 The Skirball Museum on the historic Cincinnati campus of Hebrew Union College-Jewish Institute of Religion is pleased to offer the exhibition A Portrait of Jewish Cincinnati in celebration of the Cincinnati Jewish Bicentennial November 4, 2021 through January 30, 2022. Jewish community life in the city of Cincinnati formally began with the founding of Chestnut Street Cemetery in Cincinnati's West End in 1821. 
A Portrait of Jewish Cincinnati brings together the likenesses of many of Cincinnati's prominent Jewish citizens from the early 19th century to the present day, gleaned from the museum's own rich collections as well as those of local and national museums and private collections. Portraits include oil paintings, sculptures, drawings, and mixed media representations of figures who have made a significant impact on Jewish Cincinnati and the larger secular community. Augmenting the portraits are several decorative arts objects, including a tall clock made by Joseph Jonas, Cincinnati's first permanent Jewish settler, who was a jeweler and watch and clock manufacturer. 
"Bringing together almost 40 works of art in celebration of 200 years of Jewish life in Cincinnati has been an incredible journey of discovery and learning for the Skirball Museum staff," comments Skirball director Abby S. Schwartz. "From Fanny and Abraham Aub, the couple who gave the land to build the second home of Cincinnati's Jewish Hospital—the first in the country—the stories told by these portraits are colorful and diverse and will engage viewers of all backgrounds. 
For additional information call 513.487.3231 or email awheeler@huc.edu, or visit our website at http://csm.huc.edu.