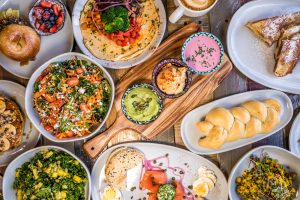 Café Alma came to fruition through a shared love of community and food. The owners, Lainey and Yair Richler encourage the habit of healthy eating and living a well-balanced lifestyle through a Mediterranean Diet. Café Alma aspires to be the place people come to for a meal and feel good about what they are eating. The Richlers hope their cafe can feel like a home away from home— where one can sit for hours with a friend, offer a comfortable space for those that work remotely, or be the first choice for special occasions.
Every dish on the menu is filled with color and flavor, with hopes that customers will come back time after time to make their way through the menu. Some of Café Alma's staple dishes consist of: Alma's Classic Shakshuka, Rosewater Pistachio Waffle, and the Sun Dried Tomato Benedict. When discussing their menu, Yair Richler said: "We're focusing on a different vibe with comfort foods that people are familiar with and love, but with our own little twist on it."
Café Alma is Cincinnati's first Mediterranean cafe serving breakfast, brunch, and lunch all day. Reservations for groups of 6 or more are needed, waitlist is recommended for 5 or less and can be found through their website.