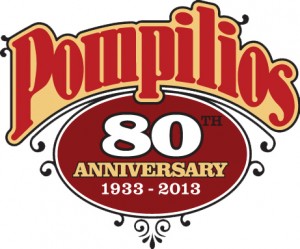 Congratulations to Pompilio's Restaurant for celebrating 80 years of serving residents and visitors in the Greater Cincinnati and Northern Kentucky area delicious Italian food. The bar and restaurant opened in 1933 by Colonel and Mrs. Pompilio. Although both have long since passed the tradition of authentic Italian cuisine carries on. "To commemorate our 80th year we have reintroduced some of Pompilio's Café classics from the 60's & 70's", says 2nd generation owner Mike Mazzei.
Owned by the Argento and Mazzei families since 1982, Pompilio's has maintained the quality dining experience set by their predecessors. They use fresh quality ingredients and still make the soups, lasagna and raviolis by hand. They even make their own Italian sausage and meatballs using only the finest meats. The Italian sampler is the perfect way to have all the classics.
When scouting for sites for the Oscar winning film "Rain Man" starring Tom Cruise and Dustin Hoffman, the film makers saw the charm of Pompilio's. The tile floor, beveled glass and the cherry Back Bar (which was hand-crafted and built by the George Wiedemann Brewing Company in 1886) was exactly what they were looking for.
Not only did they love the ambiance, they also loved the food. It's rumored that they nominated the "Italian Sampler" for "best supporting meal." Hollywood didn't stop there: two other movies used Pompilio's in their films, Fresh Horses and Airborne.
When you go to Pompilio's you are sure to have an excellent dining experience. While you are there check out the movie memorabilia signed not only from the cast and crew of "Rain Man" but by both Mr. Cruise and Mr. Hoffman. And remember to wish them a very happy 80th Anniversary.