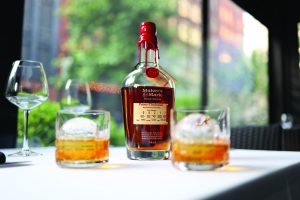 Prime Cincinnati, known for the city's best steaks and seafood, now has a new special bourbon… hand selected, and now exclusively featured!!
Next door to Prime Cincinnati, Street City now has something Unexpected to offer…an exclusive club where elegance and bourbon are at the heart of the experience. Hosted by the owners of Prime Cincinnati, located in the Central Business district of Cincinnati, has been reimagined into your new favorite gathering spot. Enter the doors and find the expected façade of Street City, but step further in and you'll find a hidden gem in their new room. City and arts-inspired murals line the walls, a beautifully framed large screen centers the room next to a stage and to top it off, there is a bourbon display filled with sparkling bottles exhibited to entice.
 Set for daytime, the room offers a great option to gather in an excellent setting for a business lunch.  Dinner is filled with theater goers as they indulge in a prix fixe menu that is a perfect preview to the show. Especially when the Aronoff is just a hop across the street, the Taft theater is a block behind, and the stadiums are three blocks south. Above and beyond these experiences is something Unexpected.
 Also known for hosting fabulous Private Events at both Street City and Prime….from small gatherings to weddings…ask about the new Bourbon Room for private dining.
It's August…which in Cincinnati means tennis!!!! Visit us at the ATP Western and Southern Open Tennis tournament…both Prime Cincinnati and Street City will be serving up fabulous eats…from Steakhouse Salad and Cobb Salad…Crabcake and JackPrimetime Sliders at Prime…and Crispy Brussels, Sidewinder Fries, or Cajun Salmon Salad at Street City…PLUS so much more!
Let Prime and Street City host you for dinner…drinks….pre-theatre…at the tennis tournament…any of your events…big or small…we can host them all!