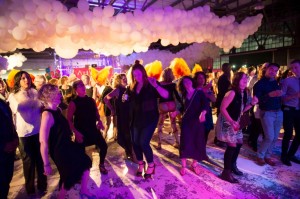 An expected 500 artists will donate original pieces to support the nonprofit's mission.
ArtWorks' signature fall event, Secret ArtWorks, returns on Friday, November 16, 2018 from 7–10 p.m., at The Banks. Secret ArtWorks showcases artistic talent from Greater Cincinnati and beyond in the form of a hundreds of 5×7-inch works of art that will be up for sale at the event. This party plays host to art lovers and patrons including Cincinnati's most enthusiastic art connoisseurs, city leaders and young professionals.
ArtWorks has been collecting the art pieces that will be for sale at the event. The organization is expecting to collect over 800 individual pieces for the event.  Secret ArtWorks keeps the identity of the artists under lock and key until the secret works of art are purchased. Guests at the event select their mini masterpiece based only on what the piece looks like. A voucher is included in most ticket levels.
New this year, ArtWorks is working with six local art curators to create unique selections. Curators include, Allison Banzhaf, Amanda Carlisle of Wooden Hill, Barbara Hauser of Red Door Project, Cal Cullen of Wave Pool, David Smith of Marta Hewett Gallery, and Sara Vance Waddell.  "We love that the event supports both ArtWorks and so many local artists," said Hauser of P&G Cincinnati Community Relations and co-chair of Secret ArtWorks. "Cincinnati is such a hub of creative talent, that is why I started the Red Door Project four years ago and am thrilled it will be part of the event."
All proceeds support ArtWorks' year-around programming. This year ArtWorks has employed 175 Youth Apprentices and 69 Teaching Artists to complete 30 projects, including 13 permanent murals and more. Annually, ArtWorks invests close to $800,000 directly into paycheck for emerging talent and visuals artists in the region.
 "ArtWorks is here to create a region where everyone benefits from incredible art," said Tamara Harkavy, ArtWorks CEO and artistic director. "Secret ArtWorks highlights the creative genius of our community and invites everyone to celebrate it."
 The event sponsors include The Enquirer/Cincinnati.com, Fifth Third Bank, Procter and Gamble, Cincinnati Reds and Huntington Bank. Catering partners include Jeff Thomas Catering, Essen, Injoy, Taste of Belgium, Jefferson Social, Heidelberg Distributing, Rhinegeist Brewery and Watershed Distillery.
Tickets for the November 16 event range from $50 – $1,500. Many ticket prices include food and drink tickets and vouchers to select a Secret work of art. Entertainment will be provided by Penny Tration, AfroChine, DJ Pillo, Aryn Fox and a photobooth by Floyd Johnson of OATW. Secret ArtWorks will be held at 145 Second Street East (the former Howl at the Moon location). For more information and tickets visit ArtWorksCincinnati.org.