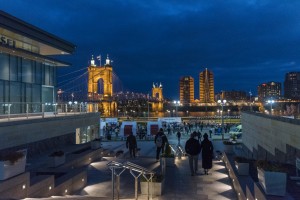 Ale to the Queen City, November 23 and 24, will feature more than 20 local craft beers, signature Cincinnati dishes, and live music. The outdoor event will take place on Mehring Way between Elm Street and the Roebling Bridge. Coffee and hot chocolate will also be served, with the option to add some holiday "spirits."
The festival is a celebration of Cincinnati, the holiday season and the region's rich brewing heritage. It's the perfect time to meet up with friends and family to keep Thanksgiving weekend going!  
Ever wonder how brewers invent new beers or come up with those beer names? Curious about home brewing? You can quench your thirst for knowledge at the event as you hear stories and ask questions about the Cincinnati region's favorite beers during "Tales & Ales" sessions. 
Info
• Beer tickets: To be purchased on site and are $1 each. 1 ticket = 3 oz. sample or 5 tickets = full-size beer. 
• Hours: 2 p.m. – 10 p.m.
• Web: www.aletothequeencity.com for complete event information and a list of participating breweries.