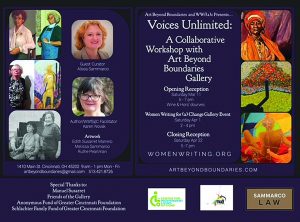 This series is held in collaboration with Art Beyond Boundaries, a non-profit fine arts gallery located at 1410 Main Street, whose mission is "to promote the understanding of artists with disabilities and show that art goes beyond the limits of disabilities."
Using WWf(a)C practices, participants will respond to artwork of Melissa Sammarco, Edith Susarret Marrero, and Ruthe Pearlman for the upcoming exhibition being held at Art Beyond Boundaries. To celebrate the creative process, participants will be invited–but not required–to share their written work at a virtual reading and at the Gallery.
Opening Reception
Saturday, Mar. 11, 2023
5 – 7 pm Wine & Hors' dourves 
Women Writing for (a) Change Gallery Event
Saturday, Apr. 1, 2023
2 – 4 pm
Closing Reception
Saturday, Apr. 22, 2023
5 – 7 pm
About Women Writing for (a) Change:
Located in Silverton, Women Writing for (a) Change® provides a safe and non-competitive environment for individuals to develop their writing skills, cultivate their creativity, and strengthen their voices.  At WWf(a)C, our writers, whether first-timers or the more experienced, find community, connection, and meaningful conversation within our writing circles.
WWf(a)C was founded by Mary Pierce Brosmer in 1991, to encourage women and girls to find their voices, speak their truths and tell their stories in a world in which they were often silenced.  Through the years, WWf(a)C class offerings have grown in response to demand. WWf(a)C has expanded and deepened its reach and offerings, while staying true to the original vision and values.
We offer writing circles and community events for Adult Women as well as All Gender options, with series classes ranging from 6-14 weeks, as well as one-off specialty classes. For youth, we offer programming specifically for Grades 4-6, Grades 7-9, and Grades 10-12, including weeklong summer camps. For more information, or to register, visit us here.
WWf(a)C Facilitator- Karen Novak is a four-time published novelist, writing teacher, practiced facilitator, and graduate of the Conscious Feminine Leadership Academy. She writes: My experience with this topic has been "on the job" training. Having a disability in my back from scoliosis as well as a complexity of other health realities to deal with, I have learned that the secret to seeing my life as a beautiful thing unfolding was to be part of something larger. My sense of community at Women Writing brings me joy and sustains me in difficult times. My writing skills have grown exponentially while here. If you have questions or want further information, contact Karen Novak.
For other questions, 
contact the Gallery @ 513.421.8726
or
artbeyondboundaries@gmail.com