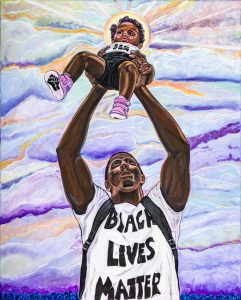 We are excited to reopen the Arts Center this month, with the presentation of two powerful exhibitions that address race, justice, and identity.
Protests this summer have lifted the voices of those seeking justice. Thousands of people have taken to the streets to protest systemic racism and police brutality, using artistic expression and the power of the printed word to rally the emotions of others to demand for racial equity. The inspiration for these exhibits are drawn from the headlines of current events; yet the issues are of historic proportion. The imagery confronts viewers with the injustices to which today's artists bare witness.
The protest poster – a common form of political art – was the inspiration for UPRISING, an outdoor exhibition by ten Black artists exploring themes of racial justice, presented in partnership with Art Beyond Boundaries.
Curated by Jymi Bolden, the exhibit features large-scale printed works by Cincinnati-based artists Cherie Garces, Melvin Grier, Terence Hammonds, Gee Horton, Hannah "Jonesy" Jones, Jimi Jones, Cynthia Lockhart, Ricci Michaels, Thom Shaw (d. 2010), and Gilbert Young (Atlanta, GA).
Installed throughout the grounds of the Kennedy Heights Arts Center, the exhibition can be viewed as a drive-through experience, utilizing the circular driveway that wraps around the building, or guests can park and explore the exhibit on foot.
 Art prints and postcards of each of the images will be available for sale, with net proceeds split between the artist and the Ohio Justice and Policy Center.