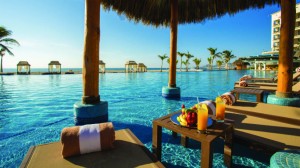 If you haven't had a chance to schedule your summer vacation, don't fret! We still have space available on our nonstop charter flights to one of our favorite destinations on the Pacific Coast, the incredible Cabo San Lucas!
We have 6 night nonstop flights departing from CVG every Sunday through July 28, 2019. There are currently packages starting as low as $800 pp including flights, round trip transportation to and from the resort, the all inclusive resort experience as well as taxes & fees! Wow!
Whether you are looking for a family friendly resort or an exclusive romantic getaway for two, Cabo has something for everyone! Do you love the spa? Some of our resorts even include spa treatments in the all inclusive package. How about golf? Green fees are included at specific resorts! Want a private catamaran for you and your best pals? We can arrange that as well! 
Take advantage of these nonstop flights while they are still available! Give us a call and we'll help you find just the right spot. We love making your getaways as fun and flawless as possible! Text or call us today! 
Debbie Boyd – Founder & Lead Travel Consultant, Travel Happy Agency  
Cell: 513-275-8086
Website: Travelyhappyagency.com 
Email: Debbie@travelhappyagency.com