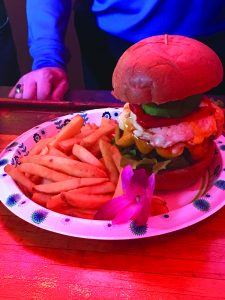 The Turf club is a classic American burger joint with the coolest vibe and surroundings….Neon signs, cartoon characters from the 70s and 80s, music playing, beer and drinks flowing….a whole lot of laid-back fun!
The Turf Club, Located in Linwood right off Columbia Parkway, is known for its neon signs, uplifting atmosphere, and most of all, the incredible stacked burgers! Boasting a wide selection of specialty toppings and sauces, the burger possibilities are endless. Not to stop there, the turf club also serves a variety of seafood, grilled chicken sandwiches and veggie options, along with lots of appetizers and a fully stocked bar to wash it all down.
Tom Kunkemoeller…proprietor of The Turf Club…is a hands on leader. Don't be surprised when you go if he is standing behind the bar ready to greet you! He's just that kind of guy.
With a smile…always.
Be sure to stop by for the Happy Hour specials…and….BOGO burgers on Wednesday and Thursday nights as your KEY exclusive offer!!!! It doesn't get any better than that…and the fries. Omg. And onion rings. Don't forget to order those! One last thing…the grilled asparagus. Absolutely the BEST asparagus in the city.
The Turf Club….4618 Eastern Ave….just above Lunken Airport. Look for the neon signs! Enjoy!