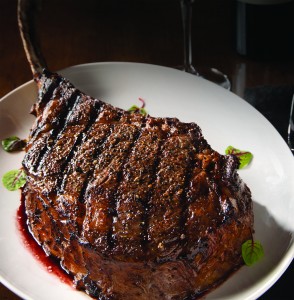 Enjoying premium steaks and top-notch service doesn't have to involve a trip to the major cities on either coast. Rather, a steakhouse located in the heart of downtown Cincinnati is bringing patrons the dry-aged, well-marbled steaks they crave.
Prime Cincinnati and its executive chef Shawn Heine have built a well-earned reputation for excellence—much like that of the Certified Angus Beef ® brand Prime steaks found on the menu. With high standards that ensure each bite is as good as the last, the original brand of Angus beef's steakhouse cuts go hand-in-hand with the restaurant's hardto- find seafood options, flown from the coasts daily. From service to menu, Heine shares Prime Cincinnati's mission is to exceed each customer's expectation.
"With prime seafood and Certified Angus Beef® brand Prime, combined with our inhouse dry-aging program, we believe that we are really bringing everything that we can to the table," Heine says. "Our restaurant is all about hospitality, all about bringing the guests in and really catering to every need that they have."
One of those key offerings is in-house dry-aged steaks. Heine and managing partner Nelson Castillo enjoy getting people to try the properly aged, premium steaks for the first time. He shares that the serving staff go through intense training to expertly describe each cut of beef on their tableside display. They point out the coloration, marbling, and explain the differences while making recommendations. This impressive presentation is as much an education to their guests as an enticement. Those are the key interactions Nelson sees that make up the overall experience.
"The Prime Cincinnati experience is all about creating memories," Nelson Castillo says. "It's all about how we can impact and be part of everybody's day."
In addition to the classic evening service, Prime Cincinnati also offers lunch, highlighted by its burger selection. Topping the list is Heine's Prime Dry-Aged Burger, consisting of Certified Angus Beef® brand ground chuck, topped with bacon, blue cheese and garlic aioli. The restaurant also provides delicious soups and salads for lighter options.
For information or to make a reservation, visit PrimeCincinnati.com.
With its focus on providing patrons with premium steaks and an exceptional dining experience, Prime Cincinnati received the Steakhouse of the Year honor from the Certified Angus Beef® brand. For information or to make a reservation, visit PrimeCincinnati.com.