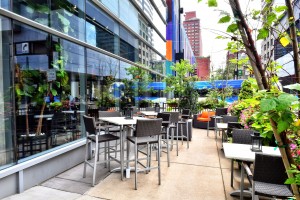 With Cincinnati burger week around the corner, over 50 restaurants, pubs, and bars will be offering signature burgers for only $5. Nelson Castillo owns three restaurants participating in burger week…..Prime Cincinnati, At580 Market, and Street City Pub.
All three restaurants boast Certified Angus Beef Brand all-beef burgers, and each comes with it's own unique toppings to get that classic burger taste. 
On the menu for Prime Cincinnati, a premier steakhouse in Downtown Cincinnati right across from the Aronoff, is the Jack Burger — a prime burger with rocket arugula, aged Vermont cheddar cheese, bourbon bacon onion jam, berkshire bacon, and truffle aioli, all on a brioche bun. 
At580 Market has, for a limited time, the All American burger — a combination of American cheese, bacon, fried egg, topped with a special mayo. 
Street City Pub's choice burger is the FC Cincy burger. Named to honor Cincinnati's popular MLS soccer team, the FC Cincy burger is a burger with pimento cheese, crispy onion rings, bacon, special mustard-mayo, all on a pretzel bun, which is fitting seeing as Street City Pub is the official away-game viewing Pub in Cincinnati. 
Come catch an FC Cincy game, or any other sports game on one of Street City Pub's 10 televisions, and know that the Pub is more than just a place that serves food, it's a place with fun for the whole family. With dollar wing Tuesday's, Thursday night trivia, live music Saturday's,and kids eat free Sunday, Street City Pub has something for the whole family every day of the week. Elise Lemen, Sales and Marketing Manager of both At580 Market and Street City Pub, says the Pub is a "place where people can come for more than food or drinks, it's a place where people can come for entertainment too." 
Be sure to visit Streetcity.pub for the full sports schedule and weekly events, and check out these burgers during Cincinnati burger week. The FC Cincy Burger at Street City Pub, and the Jack Burger at Prime Cincinnati will be available for only $5 from July 15 – July 28 (that's a bonus week!), while the At580 Market All American burger will be available for only $5 from July 15 – July 21. 
Be sure to try all 3…. Once, twice, even three times! The BEST BURGERS IN TOWN.  Got to love July in Cincinnati!