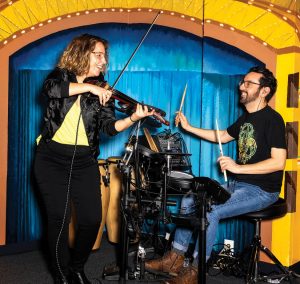 Street City has a secret…shhh! Enter through the front doors to the expected friendly service of a local pub but step a little further in and you will discover our new "Unexpected" lounge. 
 We've redesigned our interior to provide a new experience. You'll enjoy a room full of inspired murals by local artist, Taaj Richardson. Taaj is a student at the University of Cincinnati who fulfilled his curriculum by transforming our lounge. Owner, Nelson Castillo's vision for the lounge is to create a space for locals and tourists alike to spend their evenings chill and relaxed with good bourbon, good friends, and good service. 
 The center stage mural is a depiction of the main hall at the Aronoff center just across the street. The Aronoff is a favorite partner of ours and although we are differing industries, we complement each other to provide desirable destinations for your evenings. Extended from the painting is our own stage where we feature local artists for live music and entertainment. Start your entertainment at one and continue with the other, all within the same block, both feeding the soul of this beloved city. 
 The barrel mural is a reflection of the "Unexpected" transition of the bar lounge to the bourbon lounge. Just as in the days of prohibition, speakeasies were often found behind the expected store front. In our Unexpected lounge, bourbon is king and the rows of mural barrels showcase this. Consider joining our Bourbon club – coming soon! 
P.S. For all you theater goers, check out our new gourmet Four Course Meal for just $46 available all day every day and a perfect pairing for your pre or post theater meal.