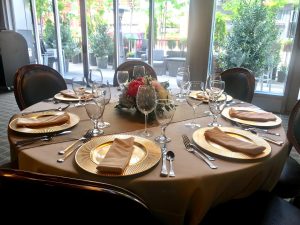 This year has shown us how important it is to cherish the good times with  family and friends. Prime Cincinnati can offer a safe space for your get-together. Outdoors on their Urban Oasis Patio or inside one of their private rooms. Let them provide peace of mind for your group with social  distance tables, knowledgeable staff, and strict adherance to guidelines. 
The smaller of their two patios can accommodate up to 10 while the larger patio can seat 30. Inside, there is a small Grotto for 6 and the largest, 580 Room, can hold up to 60. All while maintaining the necessary precautions. 
Enjoy your friends and family. Enjoy the summer before it is gone. Enjoy yourself! Enjoy private dining at Prime Cincinnati. 
Email Elise.Lemen@PrimeCincy.com today to book your event.