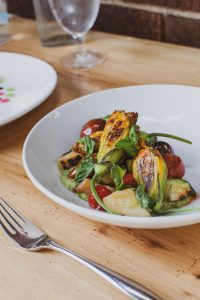 Postmark is a new American restaurant with a "farmhouse refined" concept that champions the "slow food" movement . Showcasing local farm goods, old world ingredients & artful products, food and wine related. Working directly with merchants, farmers, & importers to preserve a tradition of culinary cultures and practices with thoughtfulness and purpose. Postmark is where great food and drink are honestly prepared and served. The setting is re-purposed, reused, and up-cycled. Worn and weathered. Cozy and comfortable, yet rustic and rugged. Filled with old world charm and nostalgia. Fine dining meets farmhouse style. The postal theme is portrayed by post office antiques, prints and decor, through out the dining room. A small additional space has been renovated into a retail wine shop with a 400+ bottle catalog. Chef Bernstein's culinary style at Postmark leans towards approachable elegance with a creative and playful appreciation of luxury. Thinking globally and sourcing locally is a staple of the Red Feather Trade Co. brand. When dining at either Red Feather Kitchen or Postmark, guests are treated to surprise bites in between courses simply out of Chef's love to cook for the community and share in the festivities of different flavors. Let's just say that "amuse bouche" is Chef Bernstein's middle name. The menu of the revamped and remixed edition of Postmark restaurant mirrors a Tapas style dining experience. A Tapas service experience originated in Spain as a selection of small bites that were/are enjoyed at a bar with a glass of wine or a cocktail before heading home for dinner. The most common types of food that are eaten as a tapa are cured meats like jamón Iberico or chorizo, olives, cheese and other easy-to-prepare items which require little or no cooking. This delicious tradition has found its way into the heart of bistros, bars and restaurants across the globe. Including Postmark nestled in the bustling and vibrant Gaslight district of Clifton. Stop in soon and treat yourself to knowledgable and attentive service and a delightful Tapas style menu. A retail wine shop is now available as well and a resident Sommelier always on premises.
 Chef Bernstein and team are not afraid of a good party either! Wednesday's are dedicated to live music and celebration with the Music on the Mark series. Showcasing local musical talent from the Cincinnati area, tables are available to purchase along with the Bistro menu and expert staff to treat guests to a lovely experience while listening to live acoustic music in the romantic atmosphere of the Postmark dining room. Details for tickets and upcoming musicians are available on the Postmark website and all social media platforms.
Postmark is also available as an event space designed to create culinary driven private events from 20 to 80 guests, perfect for meetings, business dinners, celebrations, charity events, rehearsal dinners, and small receptions. Postmark is available for lunch, dinner and brunch events. A deposit is required to reserve the space and menus will be curated to the guests desires.
 If all of this were not enough to keep Chef Bernstein and team busy, Bernstein has recently reopened doors for dine-in service at the famed Red Feather Kitchen located in Oakley, and is slated to open his next venture of Red Feather Larder at Dutch's, an old school Pony Keg established in 1947, in October 2020. Bernstein is looking to create a neighborhood "groceraunt" style establishment where guests can "shop like a Chef".
 Showcasing high-end products in partnership with local producers and purveyors, an enviable retail wine program and bar as well as a neighborhood deli/butcher shop with a welcoming atmosphere, Bernstein hopes to reaffirm his bonds with the community.