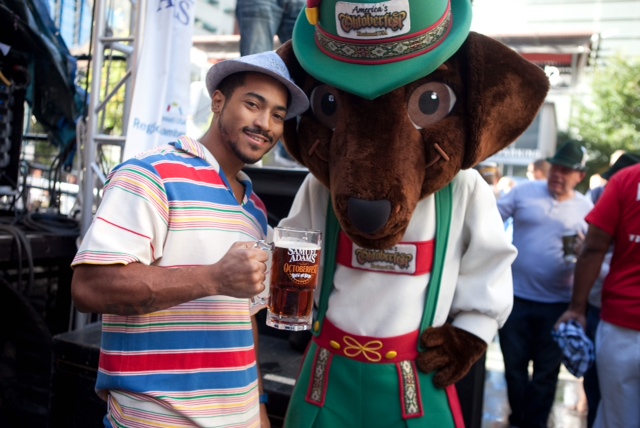 Cincinnati is steeped in rich German Heritage – just ask one of the many German Societies in town who work hard at bringing that culture to the forefront. That's why there's no better place for an Oktoberfest than Cincinnati!
Starting in 1976on one city block, Oktoberfest Zinzinnati is now a 16-city block extravaganza that is second only to the original Oktoberfest in Munich. Attended by over 600,000 people, Oktoberfest Zinzinnati is a wonderful opportunity to be immersed in German culture and heritage that makes Cincinnati, while enjoying fine food, beer and events that are fun for all ages.
Oktoberfest Zinzinnati, presented by Samuel Adams, opens on Friday, September 18 at 5pm. The official opening ceremonies are at 11:30 am on Saturday, September 19 with the traditional tapping of the keg by Samuel Adams founder (and Cincinnati native) Jim Koch, followed by a procession through the city streets by members of the many German societies in town, dressed in traditional garb and carrying the flags of their particular German background.
But don't think the festivities don't kick off until Friday evening – be on Fountain Square at noon that day for the 9th Annual Running of the Wieners! 100 Dachshunds in hot dog costumes will be running races in heats of 10, and the winners of those will run one last race to crown the official King or Queen of the Wiener Dogs! This is a race not to be missed – the sight of all those wiener dogs in wiener suits is entertainment for the entire family. Fritz, the official Wiener Dog Mascot will be walking around for photo-ops and good times.
After the dogs have their day, Oktoberfest Zinzinnati continues with the Gemuetlichkeit (Goodwill) Games at 1:00pm, which features beer barrel rolls and beer stein races. And if that's not your mug of beer, you can enjoy so many other activities, including the World's Largest Chicken Dance. While the Grand Marshall has yet to be announced, past honorees have included Weird Al Yankovic, Nick and Drew Lachey, Joe Morgan and the Prince of Bavaria. Not up to getting your chicken on? Try this year's new Mike's Hard Tug of War, sponsored by Mike's Hard Lemonade, on Sunday at 11am right in the street. You can also have fun at the Beer Stein Hoisting contest: a liter Stein is filled to the brim and you have to hold it up without so much as a waver of the arm. Not as easy as it looks! Oktoberfest Zinzinnati's most unique event is the World Brat Eating Contest, with Joey "The Jaw" Chestnut coming in to defend his brat-eating crown. Show up to watch – if you've got the stomach for it!
There will be close to 40 food tents, where in the past they've sold 90,000 brats, 80,000 metts, 54,000 sauerkraut balls, 25,000 potato pancakes and tons of strudel and pretzels. New this year is Brewer's Alley, where thirsty folk can enjoy micro brews from across the country as well as from right here in the Tri-State area. "It's crowded, fork to fork and stein to stein, but everyone's in a good mood and enjoying Oktoberfest," says Pat Sheeran, VP of the Cincinnati USA Regional Chamber.
Another highlight of Oktoberfest Zinzinnati is their Glockenspiel. Not your grandmother's clock, this is an LED screen Glockenspiel that for 55 minutes of the hour looks like a regular clock, but at the top of the hour for 5 minutes lights up with graphics to accompany the dancers who come out to entertain the crowd.
Oktoberfest Zinzinnati is more than just a street festival, it's a mega-event that's a don't-miss when you're in Cincinnati. Sheeran asserts, "whether you're German, or just German at heart, you'll have a great time." Raise a stein, savor a brat and let the good times roll!