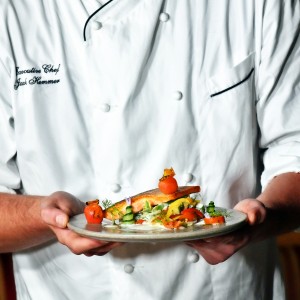 On Monday, April 15, Nicola Pietoso celebrated the 23rd anniversary of his namesake restaurant, Nicola's. To celebrate, he gave away over $2000 worth of their famous Bolognese to unsuspecting guests who often dine there on Mondays to enjoy their weekly neighborhood special.
In addition to their "Bolo Mondays," Nicola's is well known as an upscale fine dining staple in Cincinnati's Over-The-Rhine neighborhood, featuring a highly acclaimed, contemporary Italian menu, an extensive wine list and one of the most unique dining spaces in the area.
Nicola's is also the proud multi-year recipient of the AAA Four Diamond rating, as well as TripExpert's "Expert's Choice and "Best of Cincinnati" awards.
Matthieu Charbonneau, Manager of Nicola's, has worked there for most of the past five years.When asked what really separates Nicola's from other restaurants in OTR, he was quick to mention their level of customer service, "The service aspect is a staple in OTR, a constant that has been a focus of ours. We have a longstanding reputation for being warmly hospitable and accommodating."
It is this service that founder Nicola Pietoso strives for every day. In fact, it's the heart of his business. You can find Pietoso in the dining room almost every night, smiling and talking to customers. In the words of Charbonneau, "Guests love seeing him. He's been around for 23 years and is an absolutely wonderful and amazing person who carries a unique presence with him everywhere he goes."
Guests are also a focus in the kitchen, as Executive Chef Jack Hemmer spends his time creating innovative dishes each season for the guests to enjoy. Nicola's just released their new Spring menu, featuring house favorites such as beef tenderloin, arctic char, rhubarb salad, frutti di mare squid ink pasta and tuna crudo. Having worked on and off for Nicola's since his early 20's, Hemmer embraces Nicola's core values and strives for this commitment to customer service not just in the kitchen, but in the front of the house as well. In his words, "Our goal every day is to be better than the day before. We want people to consider us one of the best."
In addition to the seasonal menu releases, Nicola's often hosts wine dinners, pairing delicious wines with customized dinner selections from Chef Hemmer. The next wine dinner is scheduled for June 13 and will feature wines from Italo Cescon. The restaurant is also planning another wine dinner in July. Guests can reserve their seats for these exclusive dinners by calling the restaurant directly.
Nicola's Restaurant offers a truly unique experience for its guests. With private and semi-private dining spaces, they are the perfect location for a corporate meeting, dinner celebration or to entertain friends while in town. Visit Nicola's at 1420 Sycamore Street in downtown Cincinnati for amazing food, wine and atmosphere.