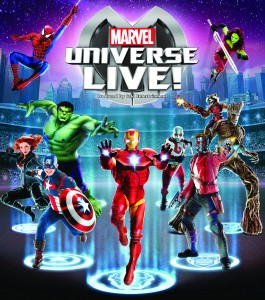 Marvel fans, assemble for this live, legendary battle to defend the universe from evil. The Avengers, the Guardians of the Galaxy and Spider-Man join forces with Doctor Strange, master of the mystic arts, in a race against time to recover the Wand of Watoomb before it falls into Loki's hands in this all-new, spectacular arena stunt show.
Produced by Feld Entertainment, Marvel Universe LIVE! is performing at U.S. Bank Arena from Sept. 20 to Sept. 23 for seven performances. Tickets are on sale now.
Show times are: Thursday, Sept. 20, 7 p.m.; Friday, Sept. 21, 7 p.m.; Saturday, Sept. 22, 11 a.m., 3 p.m. and 7 p.m.; and Sunday, Sept. 23, 11 a.m. and 3 p.m.
Audiences will join in the quest that sparks new feuds with old foes, pitting student against mentor, sister against sister and brother against brother. Witness cutting-edge special effects, aerial maneuvers, pyrotechnics, martial arts, motorcycle stunts and vast 3D video projection mapping in this completely new thrilling adventure. 
Tickets for Marvel Universe LIVE! start at $20. All seats are reserved, and tickets are available at Ticketmaster by phone at 800-745-3000, and online at www.ticketmaster.com.