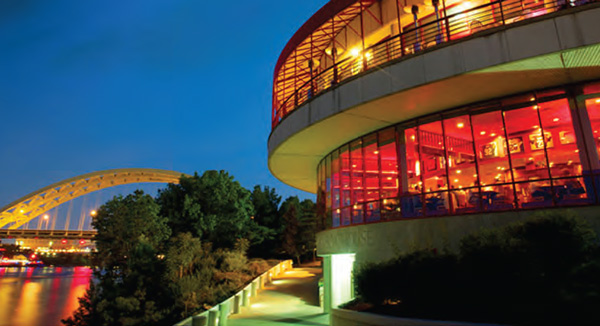 When visiting Cincinnati, it's tradition to dine at Montgomery Inn. When you choose The Boathouse location, no doubt you'll be greeted by Dean Gregory himself, the man in charge, always with a gracious smile and a warm handshake. Dean IS The Montgomery Inn Boathouse…and for visitors to Greater Cincinnati who may not know, Montgomery Inn is THE place for BBQ ribs. Bob Hope was so fond of ribs from Montgomery Inn, he made free TV commercials for the ribs, promoting them far and wide. No surprise that celebrities, dignitaries, sports figures and teams, and even presidents of the United States have made Montgomery Inn a must-visit in order to enjoy the famous ribs whenever they came to Cincinnati. The first Montgomery Inn opened in 1951, and has since grown to include locations in downtown Cincinnati, Fort Mitchell, KY, Dublin, OH, and the original in Montgomery, OH. It has been named one of the top 10 BBQ restaurants in the United States. A long list of celebs have stopped in over the years, including Eric Clapton, Bill Cosby, Tommy LaSorda, James Brown, Britney Spears, Cameron Diaz, Andre Agassi, and every U.S. president since Gerald Ford.
A new sauce has been "invented" by the Montgomery Inn family, a chipotle version….and it's spicey goodness! The original sauce was the personal creation of Matula Gregory, matriarch of Montgomery Inn's fantastic success. Husband Ted, later known as The Ribs King, ran a bar back in 1951, and asked his wife to cook up some ribs for him and a few of his buddies one night. That's how things started—everybody loved them, and that sauce! "That sauce is great!" was the consensus of all who tried it.
In the family tradition, Tom Gregory, son of Matula and Ted, created the new version in the kitchens of Montgomery Inn. He did it the hard way, through trial and error, using only quality, natural ingredients. The new sauce is billed as a perfect marriage of the original's sweet and spicy flavor, combined with the warm heat of smoked jalapeno peppers.
You can enjoy the new chipotle sauce at any of the Montgomery Inn locations, on ribs, chicken and more. Also, the sauce is bottled for purchase and use at home. Ask at the restaurant, or find Montgomery Inn sauces in regional Kroger stores, and other grocers. The sauce is available for shipment worldwide at www.cincyfavorites.com. In 2013, Montgomery Inn sauce was recognized as one of the top mail order items ever, topping 30 million bottles shipped worldwide.