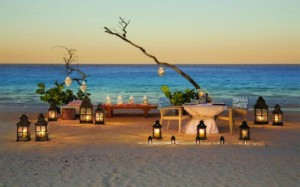 With Valentine's Day just around the corner, how about surprising your sweetheart with a getaway to somewhere tropical? CVG offers a wide range of nice flight options including nonstop charter service to four different beach destinations!
For instance, we now have nonstop air available to Jamaica for 7 nights every Monday through April 22, 2019, and 6 night service will begin end of May – August 4th! Whether you want to stay in a romantic treehouse in Negril or a beachfront bungalow in Montego Bay with swim out access, anything is possible. We can also provide VIP expedited service through customs and immigration so you can avoid those long lines that form while everyone is escaping this winter cold! 
Seven night nonstop flights to Punta Cana are available now and 6 night options begin February 16th. So many wonderful resorts to enjoy on the world famous Bavaro beach (one in particular has a lazy river and cave that you float through with a BAR inside – so fun)!  Folks also love resorts in the private gated community of Cap Cana, offering easy access to zip lining, cave expeditions and more!
Lastly, there are some brand new resorts in Cancun/Riviera Maya Mexico that are grabbing lots of attention. We can offer nonstop service for anywhere from 4 -14 nights! Whether you want a boutique style resort with rooftop pools, swanky decor and easy access to shopping on 5th avenue or a more secluded experience with included & unlimited spa treatments and 5 star cuisine, Mexico really does offer it all. 
And the most exciting news yet, we are now booking nonstop service to Los Cabos for 6 nights every Sunday beginning May 26, 2019- July 28th! Amazing deals going on whether you want to stay near Cabo San Lucas with all the fun nightlife and restaurants or farther out on the coast for a more secluded experience.
Give us a call and we'll help you find just the right spot. We love making your getaways as fun and flawless as possible! Text or call us at Travel Happy Agency! 
Debbie Boyd – Lead Travel Consultant in the Greater Cincinnati area.  
Cell: 513-275-8086
Website: Travelyhappyagency.com 
Email: Debbie@travelhappyagency.com