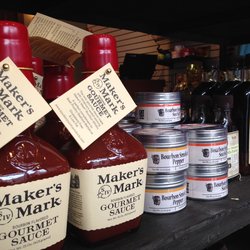 You don't have to go far from Cincinnati to get a Kentucky fix. Just across the river, in Covington's historic MainStrasse Village, you'll find Village Gifts KY – where they're "Everything Kentucky & Proud of It". If it's made in Kentucky, or has a Kentucky theme, you'll be sure to find it on the shelves of Village Gifts KY.
Do you "love the Cov?" Then their line of I Love Covington mugs, stickers and gift baskets will definitely please you. If you'd like to support the sprucing up of Goebel Park, you can buy a t-shirt featuring the Goebel Park Goat and all proceeds will go back to the park. Have a hankering for Bourbon? Well, who doesn't? Village Gifts KY has a complete line of Bourbon Barrel Food products, from desserts and seasonings to BourbonQ sauce and other delicious marinades and sauces, as well branded Kentucky Bourbon Trail products.
Some of the most popular Kentucky-made products at Village Gifts KY include Yankee Doodle Deli Pretzels and gourmet jams and jellies by Made by Mavis, both made right in Covington, Kentucky. The pretzels come in sweet and spicy varieties and the jams and jellies are not the everyday, put on your PB&J spreads; with flavors like Blueberry Lime, Apple Jalapeno and Honey, Pear and Vanilla, you'll be going above and beyond the usual sandwich!
Village Gifts KY is open Wednesday through Friday, 11am-6pm; Saturday, 11am-7pm; and Sunday, 12pm-5pm. Why only go home with just Cincinnati delicacies? Take home a full taste of the Tri-State area from Village Gifts KY.