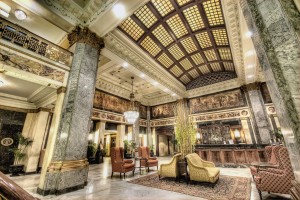 Oh, the fun of living in Cincinnati with so many awesome cities close by……next stop, Louisville!  A great weekend escape with so many things to do.  The food, the drink, the shopping, the parades.  Just a quick drive down south, and we arrived at the Seelbach Hilton, right next to the 4th Street Live!  What a grand hotel…. a storied past with modern amenities.   The suite was fabulous! Now off to discover…..
First food stop, Grind Burger Kitchen.   By partnering with local and regional farms and suppliers for ingredients, Grind has become an ambassador for the local food movement in Louisville.   We ordered the Cuban with Brussels Sprouts…..yum!  Necessary food to prime us for the upcoming bourbon to come……
Angel's Envy.  What a facility, what a tour.  Stunning and new, copper everywhere….bourbon everywhere!  Do not miss this, I promise.  Our "tour guide" was so knowledgeable and entertaining.  And yes, we tasted…. A LOT.
We decided to do all the bourbon in a day…so next up, Jim Beam Experience!
Very fun!  We were seated at a group table and were introduced to a fabulous "lunch tray" of accoutrements…including many tasty tidbits to make specialty cocktails.  They even taught us how to "shake" properly.  Oops.  I made a serious mess ALL OVER the table when the lid came off.  Sorry!
Enough alcohol for a bit….time to shop! There are great little stores lining 4th…but my fave is Regalo.  A collection of so many different crafted items, from jewelry to purses, candles, artwork, socks (omg so many!), and many other cute things!  I stocked up on fun bracelets!
Time for a rest, then off to meet dear friends for dinner and the U2 concert!  It was a memorable night……with the most fabulous parade…Kentuckiana Pride!  Loved every minute!
The next day consisted of food, shopping, festivals and sightseeing.  Busy and fun, but the alcohol was going to have to wait 'til evening!  We found ourselves at a fabulous dinner at Proof on Main, housed in the 21c.  Just wonderful, from the décor (I seriously loved every inch of this restaurant…different décor in each dining space!) to the craft cocktails, appetizers, main courses and dessert.  We began with the Blackberry Pop Tart with pate…and the charred Octopus.  Just order it, you won't be sorry!   We dined on so many courses, including beet salad and a few of their heavenly sweet creations.  Oinkfest.  We will definitely be back at Proof!
So many things to see and do in Louisville, and if you're looking for something awesome in September, be sure to attend Bourbon and Beyond!
Bourbon & Beyond will be an incredible all-in-one bourbon, food, and entertainment destination that honors the rich history of bourbon that is so deeply rooted in the heart of Kentucky. All together Bourbon & Beyond is a celebration of craftsmanship, soul and spirit, on September 23rd and 24th at Champions Park.  For tickets, visit:   https://bourbon.frontgatetickets.com.
Here's to another fabulous weekend escape!  Until next time!
Patty Youkilis  
Publisher, Key Magazine Cincinnati