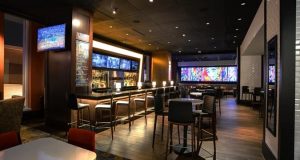 Most of us have been confined to our houses or immediate vicinities for many months, possibly even cancelling trips elsewhere, but as you begin to feel more comfortable we encourage you to Experience Columbus for a not-far-from-home "staycation"! Feel safe knowing that more than 150 businesses in Columbus have signed the Live Forward Pledge, indicating they have made health and safety of their guests a priority upon operating during the COVID-19 pandemic, and many of the city's highest visitor touchpoints have leveled-up with third-party validation through the GBAC STAR™ Accreditation. You don't have to travel far to feel far away, and we've rounded up a few great ideas you can consider. 
A new self-guided Short North Art Trail helps you explore and discover not only the great murals and public art in the area, but also the galleries and performance spaces, all without the crowds common during Gallery Hop.
Once downtown, you can easily access many of the city's top attractions and cultural institutions. Eat your way around the world all within the walls of the North Market. Pay homage to our veterans past and present – across all eras of conflict and branches of service – at the one-of-a-kind National Veterans Memorial and Museum. Plus, be sure to get to the Columbus Museum of Art for the groundbreaking "Art After Stonewall" exhibit, which explores the impact of the LGBTQ civil rights movement on the art world and has been named among the top 10 most important exhibitions of the decade by Art News.
There are still plenty of opportunities to get outside and stay safely socially distanced with 253 acres of greenspace scattered throughout downtown. Grab a CoGo bike rental or take a walk along miles of mixed-use trails along the Scioto Mile that lead to the world's largest outdoor climbing wall at the Scioto Audubon Metro Park. Downtown is also the perfect starting point from which to explore Columbus' unique neighborhoods, including the beautiful architecture of Victorian Village, the charming brick-lined streets of German Village or the up-and-coming Franklinton neighborhood.
Check out the "Experience Columbus" hotel packages page for staycation offers from the Moxy Columbus Short North, Graduate Columbus, Le Meridien Columbus, The Joseph, Hilton Columbus Downtown, Drury Inn & Suites and Hotel LeVeque.
Our "Experience Columbus" getaway started with the Hilton Columbus Downtown…a very sleek hotel located in the PERFECT location for shopping, dining and exploring the Short North and surrounding areas. Room accommodations were great…super clean and sanitized, well-appointed, large room with modern touches. Safety is a HUGE priority…from checking in, to room access and dining in the hotel.
On to happy hour at Gallerie Bar and Bistro, located just above the lobby…for a fabulous Charcuterie Board, Calamari and Dirty Martini…ahhhhh. Vacation mode!
Wearing our face masks (MANDATORY in Columbus I'm thrilled to say!)
Next up…shopping! Many stores were open and awaiting customers to peruse the stocked shelves. Galleries were also open. Felt so good to be out and about!
On to The Guild House for dinner across the street from our hotel….our favorite Columbus restaurant by the famed Cameron Mitchell.
The Guild House is a unique rustic-modern dining room for sampling eclectic, globally inspired seasonal menus. I dined on the BEST scallop dish I've ever had (seriously beautiful and tasted FAB!), while my better half indulged in the lamb burger. OMG. On to the Torte for dessert…a Flourless chocolate cake, chocolate ganache, peanut butter mousse, vanilla tuille. Splurge, but worth it!
Back to the super comfy bed at the hotel! We awoke early and had breakfast at the hotel…then to the North Market… a 144-year-old vibrant public market made up of Ohio's best independent merchants, farmers, and makers, where you can eat, drink, shop, and enjoy the best of what's local, fresh, and authentic. We shopped strong at Penny's Meats. They grind the freshest ground beef and pork daily. They also carry a wide selection of lamb and goat, plus so much more!
Don't miss Block's Bagels, Jeni's Splendid Ice Creams, Market Blooms for flowers, and so much more!
We next ventured over to the Columbus Museum of Art (Included with the Roar & Explore pass, which offers a 20% savings on the city's top attractions and is a great deal for visitors to make sure they hit all the top spots). The Columbus Museum of Art was the perfect escape on a rainy Saturday morning, filled with wonderful exhibits and a great museum store, all with our safety as a top priority. Again, MASK ON in Columbus!
Time for more shopping! We just couldn't get enough…store after store, galleries, art murals in cute nooks…spend spend spend!
It was the perfect little getaway. We felt very safe in Columbus, and are already planning our next visit! Get out and go places…Mask On….and stay socially distanced while still experiencing other cities.
WE MUST KEEP RESTAURANTS, STORES AND HOTELS ALIVE!
Have fun and be safe!
– Patty Youkilis, Publisher