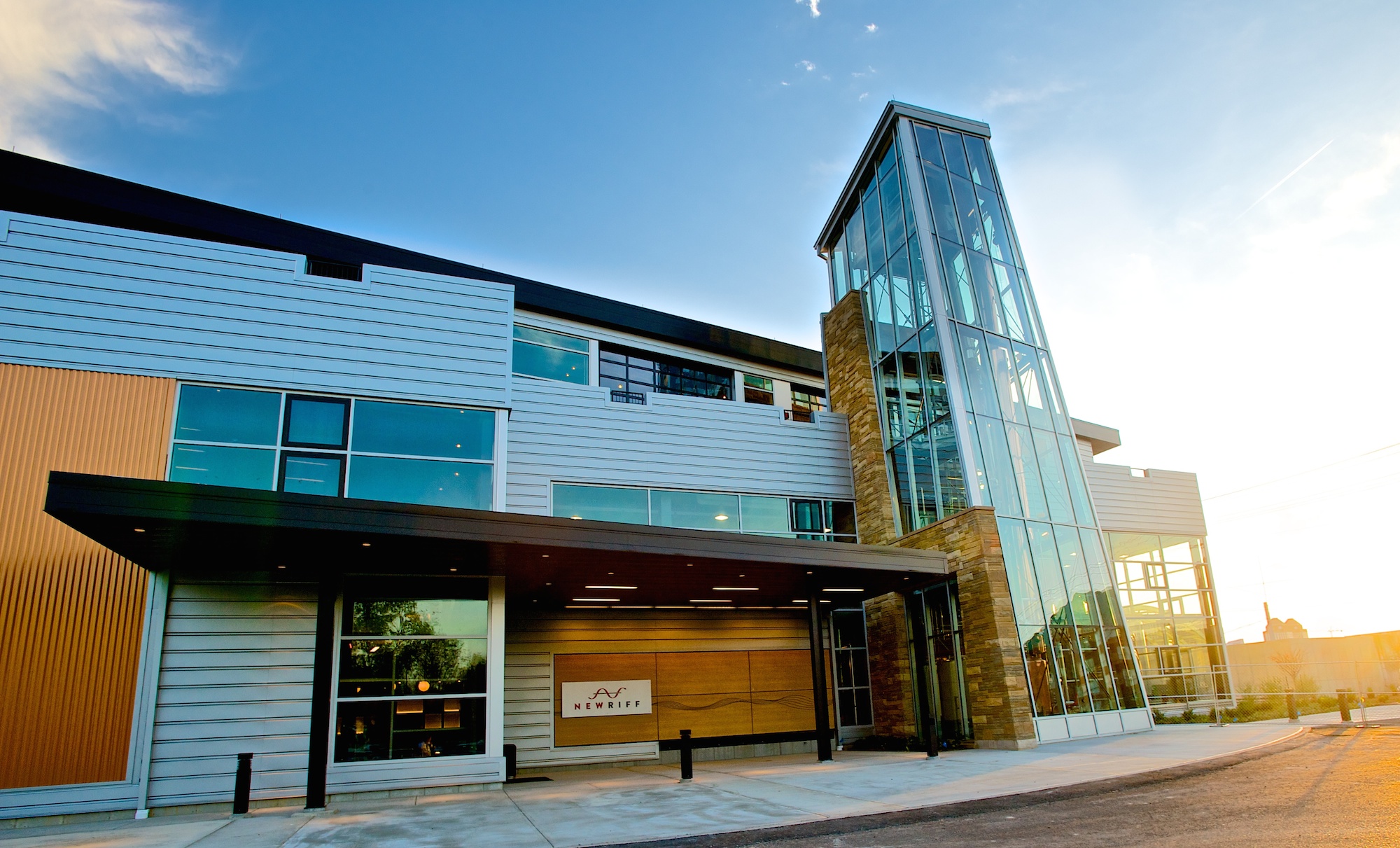 Greater Cincinnati Bourbon lovers rejoiced in May, 2014, when Kentucky Bourbon production returned to the area with the opening of New Riff Distilling. A member of the Kentucky Bourbon Trail, New Riff is located right across the river from downtown Cincinnati. The distillery offers free tours Thursday through Sunday, and has a gorgeous events facility overlooking the river. Thousands of Greater Cincinnatians have already passed through New Riff, either on a tour or as a guest at one of their many events. (Weddings and receptions are scheduled nearly every weekend. Imagine, getting hitched at a Bourbon distillery!)
New Riff distills Kentucky Bourbon and Rye whiskey, to the tune of some 7,000 barrels per year. But these need to age at least four years before they're ready for bottling. (Patience is a virtue among whiskey makers.) Local whiskey lovers can't wait until June 2018 when the first New Riff Whiskey will hit the street. In the meantime, their Kentucky Wild Gin—distilled on site with locally foraged, wild botanicals—has taken Greater Cincinnati bars by storm. They also bottle a nine-year-old Bourbon distilled for them in nearby Lawrenceburg, Indiana. This is called O.K.I., and if you're not from around here that stands for "Ohio-Kentucky-Indiana." As the label states, it is "Distilled in Indiana. Bottled in Kentucky. Loved in Ohio." We bet you'll love it too!
The New Riff building itself is quite a sight. Recognizing that this is an urban 21st century distillery, Cincinnati architectural firm glaserworks designed a strikingly modern, cutting edge facility that blends form and function. The 60-foot-tall gleaming copper still is encased in a glass-and-steel tower soaring into the sky.
The free tours at New Riff are up close and personal. Unlike many of the big Kentucky Bourbon distilleries, at New Riff you can walk right up to the still (don't touch it, it's hot!) and see the entire Bourbon making process. And they have one last surprise up their sleeve…
New Riff is located on the campus that includes The Party Source, probably the largest liquor store in the country. All the way at the back of The Party Source, New Riff operates a microbrewery. With 42 draft taps, Ei8ht Ball Brewing serves up their own sparkling fresh suds—many of which are aged in New Riff Bourbon barrels—along with a stunning roster of the best craft beers in the world. It's the perfect conclusion to a New Riff tour and tasting.