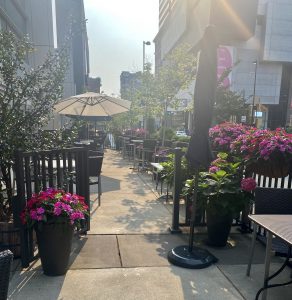 Tis the season for #outdoordining and Street City Pub offers a fantastic urban patio in the heart of downtown. Located in the center of bustling  6th Street you can relax and watch people go by while enjoying new cocktails, pitchers of local beer or margaritas, and delicious food. As the sun sets create a date night among the flowers and trees and try out their Certified Angus Beef® New York Strip or Grilled Salmon entrees also featured on their Three Course Meal for $30. Street City is a great stop for pre or post games, happy hour every day, Wine Wednesdays, and Trivia Thursdays.
 Speaking of games and outdoor dining, Street City is proud to be featured among the food vendors for the 2021 Western & Southern Tennis Tournament in Mason, Ohio. They look forward to bringing their delicious food and friendly service to those attending the event. Among the offerings is their famous Fretboard Battered Cod Sandwich, Crispy Brussels, and the Cajun Salmon Salad. So, you can be assured of quality gourmet food from Street City in-between watching your favorite players. 
Summer is at its climax. Before the siren calls of returning to school and fall sound, venture out and explore what Downtown Cincinnati can offer. Street City is a central stop to accommodate your weekend tour. Find them tucked away in plain sight on 6th Street or at the tennis tournament in Mason.