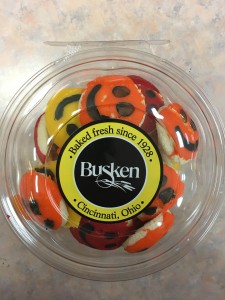 Forget the Colonel: Dillonvale IGA definitely has the best fried chicken in Cincinnati!  You wouldn't think a grocery store would be the hot ticket for fried chicken, but they've found a way to make the freshest, juiciest, tastiest chicken around: maybe because they fry it fresh all day long!  You'll never get chicken that's been laying around under hot lights for hours; just hot, fresh, fried goodness that will put a smile your family's face every time it hits the dinner table.
But that's not all the Dillonvale IGA is known for; they also are proud to offer their fresh salad bar (with fresh items put out daily), Boar's Head deli products, and their newest offering: Busken Bakery products.  Locally known for their cookies, doughnuts and pies, Busken's is a Cincinnati tradition and now you can pick up your dessert cravings while picking up your fried chicken!
Dillonvale IGA also offers another old Cincinnati favorite: Bill Knapp's cakes.  Bill Knapp's was a popular restaurant in Cincinnati for ages, and their chocolate cake was the most popular item on their menu.  And while the restaurant closed some time ago, the cake lives on – and you can get it at Dillonvale IGA.  They also carry the vanilla cake, but let's be honest: chocolate is where it's at.
Located in the Dillonvale shopping center on Galbraith Road in Dillonvale, just west of Kenwood Towne Center, this IGA is where to go for all your grocery needs.  Drop by, get a fresh salad, hot fried chicken and some dessert; mealtime is easy with the Dillonvale IGA.