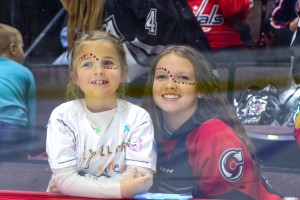 When you think of sports in Cincinnati, you think the Reds, the Bengals, even the UC Bearcats.  But did you know we have a hockey team too?  Our Cincinnati Cyclones are a top-notch team and a game is the perfect evening out for the whole family!
Since 1990, the Cincinnati Cyclones have been playing hockey all over the country and in Canada; they are the AA team of the National Predators. Eighteen of their players have gone on to play for the NHL, which makes our Cyclones a hotbed of talent that's exciting to watch.  
Coming to a game at the Heritage Bank Center is more than just a hockey experience: it's the complete package of great fun, great food and great times.  There's music, promotions and fun half-time activities (think hamster balls and sumo suits!), so even if you aren't a hockey fan, there's plenty to enjoy.  Games always have a fun theme, such as Superheroes, Star Wars and Nickelodeon Character nights, and promotions include $1 beer night, $1 hot dog night, kids eat free and more.  Special fundraising nights are featured as well, along with Military Appreciation Nights. There are also cancer awareness nights that mix philanthropy and fun. The atmosphere at a Cyclones game is always charged up with excitement and exuberance.
On February 1, the Cyclones will present the Frozen 5K &10K, a unique winter race that takes you on a course along the Banks of the Ohio River and through Cincinnati's Transit Center underneath Second Street! Join Twister, Puckchop, and thousands of other brave souls as we achieve our New Years resolutions and support the Cincinnati Cyclones Foundation in the process!
A Cyclones game is also a great place to celebrate birthdays!  Check out their package options at www.cycloneshockey.com. 
When you want more than just a sports experience on a night out – when you're looking for sports, fun, music, food and an atmosphere of excitement – come to a Cincinnati Cyclones game at the Heritage Bank Center.