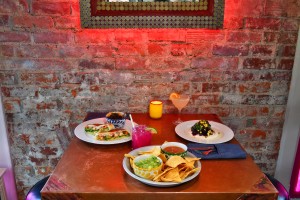 So, there's doing it easy, and there's doing it right, and Casa Figueroa is all about doing it right. They feature Latin-inspired dining in Cincinnati's Pleasant Ridge neighborhood; with regional, non-GMO, minimally processed seasonal ingredients, no hormones or antibiotics in any of the chicken, beef or pork served. Casa Figueroa is taking their food to the next level.
Casa Figueroa is passionate about being the best, not necessarily the least expensive. They source their ingredients, from tortillas made from local Ohio corn to fresh, never frozen, fish from the best fishmongers in the country.  In fact, Casa is a member of the Monterey Bay Seafood Watch and commits to always serve the highest quality, most sustainable fish.  At Casa Figueroa, guacamole is made fresh daily, chips are dusted with lime salt, and the drinks are top-shelf.  Craving tacos?  You can have everything from fish and lobster to BBQ pork, chicken, and barbacoa, and vegetarians and vegans can enjoy potato, seasonal veggie and cauliflower options.  Entrees feature the fresh fish of the day, short rib chilaquiles, and an amazing item called Big Ass Casa Nachos that takes the finest strip steak around and turns it into a nacho dish that you've been dreaming of your whole life.
Plenty of fresh salsas are on the menu, as well as salads (beet, pazole, and a Tijuana Caesar, to name a few), starters to share (Rhode Island calamari, PEI Blue Mussels, casadillas), sides like crispy brussels sprouts and beans and rice and for dessert, Aglamesis Dutch chocolate ice cream and Latin treats such as churros and cornmeal tres leches pound cake.
There's more to Casa Figueroa than just outstanding Latin cuisine, there is also a fabulous drink menu, featuring a carefully curated selection of tequilas, mezcals, craft cocktails, and small batch, cult-driven beers and wines.  The place is already on the map for their killer handcrafted margaritas!
Speaking of margaritas, there's no better place to enjoy one than on Casa Figueroa's gorgeous outdoor patio, the perfect place to meet up, enjoy a bite and take in the up and coming renaissance of Pleasant Ridge.
Casa "puts it's money where it's mouth is," not just by buying the best ingredients they can find, but by also making it a priority to recycle and compost; at Casa Figueroa, there's virtually no waste.  It's important to her that her restaurant not only delivers high-quality food but does it with a sense of responsibility.  
Have we made you hungry yet?  Good!  Now pop down to Pleasant Ridge, get some chips and queso, a taco or two and a drink and take in the best in Cincinnati's Latin dining.