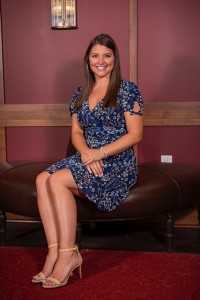 Brooke Dorger was diagnosed with type 1 diabetes (T1D) at the age of 13. Like Brooke, most people with T1D look perfectly normal and healthy, but have to work constantly to delicately manage insulin administration to stay alive since their pancreas produces little to no insulin. T1D is an autoimmune disease that can strike any one at any age at any time, and while many with the disease were diagnosed as children, as in Brooke's case, approximately half of new diagnoses are in adults.
Despite the challenges of T1D, Brooke hasn't let it stop her. In addition to a thriving career, Brooke has made time to give back to JDRF as part of its young professionals group, the Emerging Leaders Council (ELC). JDRF is a nonprofit organization with the mission to cure, treat and prevent type 1 diabetes, and on October 20 will host its wildly popular Bourbon & BowTie Bash, an event where the ELC plays a big role. As a "BowTie Baronness", Brooke has helped with fundraising for the event. "People love this event because there's so much to enjoy, whether it be the bourbon tastings, bites from local eateries, the auction and fashion show, photo booths, or the crazy dance floor – there is something for everyone. Most of all the best part is seeing how many people come out to help create a world without type 1 diabetes."
Brooke will share her story in front of 2,000 guests at the event, which will be held at the Duke Energy Center. While the Bourbon & BowTie Bash has already sold out of admission tickets again this year, a limited number of sponsorships are available. For more information, visit www.jdrfbourbon.org. To learn more about JDRF, visit swojdrf.org.