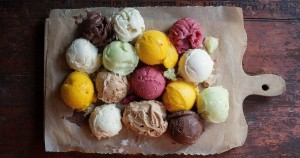 From Blueberry Ginger to Bananas Foster and Dark Chocolate Orange, Madisono's Sorbet and Gelato will not only leave your taste buds zinging, but your stomach quite happy too. With no eggs, no gluten, and low-to-no fat, Madisono's really takes pride in its unique flavors and digestive friendly gelato and sorbet, so there is something for everyone.
Madisono's motto, "Be Curious. Eat Freely." really shows their commitment to providing delicious and healthy sweet treats for everyone. Vegan? No problem. Madisono's sorbet is both dairy free and vegan, in addition to being gluten, egg, and fat free.
Madisono's was started by Matt Madison, a gourmet shiitake mushroom – among other specialty produce – farmer in Adam's County, Ohio. Over the years, as he traveled to farmers markets and events all across Cincinnati, Madison discovered his knack for making wonderful gelato creations. Slowly, Madison's Gelato became known and talked about, and Madisono's was born. 
Now available in almost 100 locations across Ohio, Pittsburgh, and Detroit, you can find this Cincinnati sorbet and gelato startup in Kroger, Giant Eagle Market District, Busch's, as well as plenty of other independent retailers. Grab a pint and finally Eat Free!