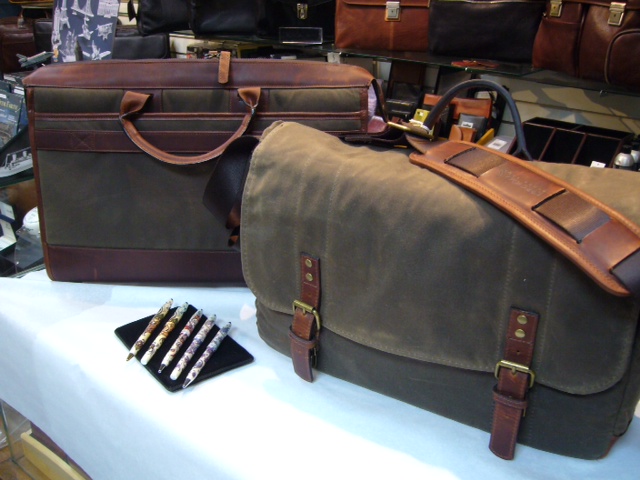 With the holidays barreling down upon us, visitors to Greater Cincinnati may want to plan on a trip to Appointments in the very heart of downtown Cincinnati. Appointments is that special kind of shop with quality gifts you will not find in many places.
Ask to see the exquisitely crafted Cross Botanicals—upscale pens featuring floral patterns on the barrel of the pen, engraved into the surface and lacquered to protect the beauty. Cross has been a leading name in writing instruments for generations, and has served as a "special occasion" gift for decades.
You may want to consider the hottest thing in professional and personal accessories of the luggage variety. The pieces are done in waxed canvas with leather trim, and they are the rage among professionals. The bags are made in the USA, and they feature great style, offering the perfect balance between business and personal carry items.
There's a large selection of leather-bound goods for a variety of uses among professionals and lifestyle consumers. There are finely tooled leather day planners and pads, briefcases, computer totes, messenger bags and satchels and travel kits for toiletries. "All of these items are finely made by the top names in the leather goods business, and a good value too," said Douglas Kennedy, owner of Appointments.
Kennedy's all-leather luggage goods are made by Johnston & Murphy. The genuine leather brief cases, laptop totes and leather document cases are of exceptional quality, and the perfect statement for professional types on the go and the climb— also great stocking stuffers or under-the-tree items.
The Key magazine team promises you'll find a varied, exotic, interesting selection of items, and nobody else in Greater Cincinnati has such a collection under one roof.
In addition to the Cross Botanicals, Appointments carries a fantastic line of writing implements— yes, pens, exquisite and of the fountain variety, but also ball-points, fiber tips, mechanical pencils and the like—targeting writing aficionados of all inks.
There are fountain pens from all the world's elite makers of fine writing instruments, including: Montblanc, Porsche, Waterman, and many others as well.