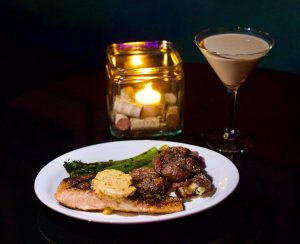 It's official! The season has returned – show season that is! You've purchased your tickets and planned your attire, now all you need is to start the evening off right with the pleasure of a delightful meal. Street City is ready to make your night complete. 
 Step into their newly renovated dining room and feel the artistic vibe. The room has been decorated with city-inspired murals including one of the center stage at the nearby Aronoff Center for the Arts. Located adjacent to the Aronoff and a short distance from the Taft Theater, whatever your Downtown event, they are a perfect location to start from. Their front door is on 6th Street between Main and Walnut.
 Indulge in two fantastic options catering to theater-goers and date-nighters alike. The Two Course meal is named Pre-Theater so that diners can segment their experience with a pause to visit the show. The elegant Four Course Meal is designed for true diners. Take your time and enjoy each course. Make an event out of the meal itself. Set your reservations according to the experience you most favor.
 Plans for something Unexpected are beginning to show at Street City. The ownership of Prime Cincinnati took over the restaurant and they are working to build a private club inside the establishment. Members will get to indulge in an elegant experience centered around exceptional items and service in an up-scale atmosphere. The menus will include an extensive bourbon list and complimentary bites to supplement the tastings. Club membership will be limited. They look forward to presenting options soon.