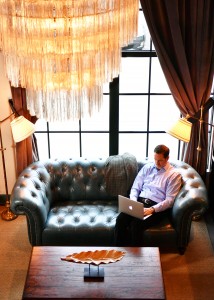 Rookwood has been exploding with new, exciting ventures: from food to shopping to business centers, this area is the hot place to be.  The latest in innovation?  Fueled Collective.
What is Fueled Collective? Essentially, it's an urban country club: a unique blend of work space, event space, and social space that's never been seen before in Cincinnati.  This fresh concept brings people together in a variety of ways that enhance not just their work life, but their social life too.  From hosting an event at the private bar, to holding meetings in an out-of-the-box location, to sharing workspace with other innovators and entrepreneurs, Fueled Collective offers something for every occasion.  Think of it as your new lifestyle center, taking you from work to fitness to play, without having to leave the building.
Upgrade your office by taking a chance on their inspiring, shared workspace; you'll be surrounded by top-notch thinkers and original perspectives.  It's a great way to achieve goals in a new atmosphere.
Thinking about a place to host your clients, coworkers and friends?  Bring them to Fueled Collective and hold an event at the private bar.  It's also a great place to network and see what's happening on the Cincinnati business scene.
Fueled Collective has so many options: the Gallery is a cozy space for impromptu meetings and after-work cocktails; the Library is a great place to focus and get things done, without having to be quiet; the Assembly boasts floor to ceiling windows and comfy seating for taking a meeting or relaxing with a coworker; the Mezzanine is the place to go when you need a change of scenery to help recharge your brain; the Carriage House provides private, locked offices for those times when you've got a project to complete and can't have any of those outside distractions (although a break is always nice!); and then there's the Drawing Room, where their open floor plan lets you go from couch to conference to the bar with just a few steps.
After working, you can release stress and stay in shape with two different gyms: one is a traditional facility with weights and exercise machines; the other is a boutique fitness center with everything from B to Y (boot camp to yoga!).  Any member can take advantage of the fitness centers, too.  And after a good workout, why not meet a friend or colleague for a drink?  Unlike the average country club, you don't need to be a member to buy a round, and the prices are quite economical.  Plus, if you get hungry, Fueled Collective is making arrangements with local eateries to deliver right to the door (think Bravo, Taste of Belgium, Seasons 52).  
For special nights out, Fueled Collective has monthly events such as wine, whiskey and craft beer nights, where you can sample the hottest sips and learn all about them.  Members get a discounted rate, but non-members are welcome to join in too.  In the works are Happy Hours and networking sessions, where you can enjoy a social lifestyle while still being professional.
How can you take advantage of this gem of a resource?  Well, you can get a day pass and get full access to all the amenities (from gym access to social club access to a private desk in a locked office) or you can go all in with a membership.  Part-time memberships are available, with increasing days of shared workspace access and exercise classes and full-time memberships virtually give you the run of the place!